Posts for: September, 2018
By Smile Design, Ltd.
September 20, 2018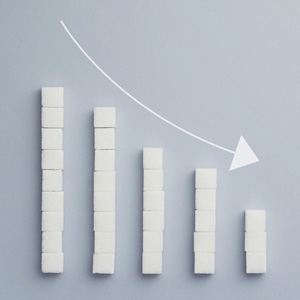 Tooth decay doesn't appear out of nowhere. It begins with bacteria, which produce acid that softens and erodes tooth enamel. Without adequate enamel protection, cavities can develop.
So, one of our prevention goals is to decrease populations of disease-causing bacteria. One way is to deprive them of carbohydrates, a prime food source, most notably refined sugar. That's why for decades dentists have instructed patients to limit their intake of sugar, especially between meal snacks.
Ironically, we're now consuming more rather than less sugar from a generation ago. The higher consumption impacts more than dental health — it's believed to be a contributing factor in many health problems, especially in children. Thirty years ago it was nearly impossible to find a child in the U.S. with type 2 diabetes: today, there are over 50,000 documented juvenile cases.
Cutting back isn't easy. For one thing, we're hard-wired for sweet-tasting foods. Our ancestors trusted such foods when there was limited food safety knowledge. Most of us today still have our "sweet tooth."
There's also another factor: the processed food industry. When food researchers concluded fats were a health hazard the government changed dietary guidelines. Food processors faced a problem because they used fats as a flavor enhancer. To restore flavor they began adding small amounts of sugar to foods like lunch meat, bread, tomato sauce and peanut butter. Today, three-quarters of the 600,000 available processed food items contain some form of added sugar.
Although difficult given your available supermarket choices, limiting your sugar intake to the recommended 6 teaspoons a day will reduce your risk for dental and some general diseases. There are things you can do: replace processed foods with more fresh fruits and vegetables; read food labels for sugar content to make better purchasing decisions; drink water for hydration rather than soda (which can contain two-thirds of your daily recommended sugar allowance), sports drinks or juices; and exercise regularly.
Keeping your sugar consumption under control will help you reduce the risk of tooth decay. You'll be helping your overall health too.
If you would like more information on the effect of sugar on health, please contact us or schedule an appointment for a consultation. You can also learn more about this topic by reading the Dear Doctor magazine article "The Bitter Truth about Sugar."
By Smile Design, Ltd.
September 10, 2018
While out with friends one evening, you take a bite of ice cream. Suddenly, pain shoots through your teeth. It only lasts a second, but it's enough to ruin your good time.
This could be tooth sensitivity, a painful reaction to hot or cold foods. It often occurs when the enamel in prolonged contact with acid has eroded. Acid is a waste product of bacteria found in plaque, a thin film of food particles that builds up on tooth surfaces due to inadequate brushing and flossing. Enamel normally mutes temperature or pressure sensation to the underlying dentin layer and nerves. Loss of enamel exposes the dentin and nerves to the full brunt of these sensations.
Sensitivity can also happen if your gums have shrunk back (receded) and exposed dentin below the enamel. Although over-aggressive brushing can often cause it, gum recession also happens because of periodontal (gum) disease, a bacterial infection also arising from plaque.
The best way to avoid tooth sensitivity is to prevent enamel erosion or gum recession in the first place. Removing accumulated plaque through daily brushing and flossing is perhaps the most essential part of prevention, along with a nutritious diet low in sugar and regular dental cleanings and checkups.
It's also important to treat any dental disease that does occur despite your best hygiene efforts. Gum disease requires aggressive plaque removal, especially around the roots. While receded gum tissues often rebound after treatment, you may need gum grafting surgery to restore lost tissues if the gums have receded more deeply. For enamel erosion and any resulting decay you may need a filling, root canal treatment or a crown, depending on the depth and volume of structural damage.
While you're being treated you can also gain some relief from ongoing sensitivity by using a toothpaste with potassium nitrate or similar products designed to desensitize the dentin. Fluoride, a known enamel strengthener, has also been shown to reduce sensitivity. We can apply topical fluoride directly to tooth surfaces in the form of gels or varnishes.
Don't suffer through bouts of tooth sensitivity any more than you must. Visit us for a full exam and begin treatment to relieve you of the pain and stress.
If you would like more information on the causes and treatment of tooth sensitivity, please contact us or schedule an appointment for a consultation. You can also learn more about this topic by reading the Dear Doctor magazine article "Treatment of Tooth Sensitivity."