Posts for: January, 2018
By Smile Design, Ltd.
January 20, 2018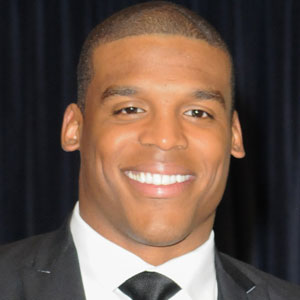 When is the best time to floss your teeth: Morning? Bedtime? How about: whenever and wherever the moment feels right?
For Cam Newton, award-winning NFL quarterback for the Carolina Panthers, the answer is clearly the latter. During the third quarter of the 2016 season-opener between his team and the Denver Broncos, TV cameras focused on Newton as he sat on the bench. The 2015 MVP was clearly seen stretching a string of dental floss between his index fingers and taking care of some dental hygiene business… and thereby creating a minor storm on the internet.
Inappropriate? We don't think so. As dentists, we're always happy when someone comes along to remind people how important it is to floss. And when that person has a million-dollar smile like Cam Newton's — so much the better.
Of course, there has been a lot of discussion lately about flossing. News outlets have gleefully reported that there's a lack of hard evidence at present to show that flossing is effective. But we would like to point out that, as the saying goes, "Absence of evidence is not evidence of absence." There are a number of reasons why health care organizations like the American Dental Association (ADA) still firmly recommend daily flossing. Here are a few:
It's well established that when plaque is allowed to build up on teeth, tooth decay and gum disease are bound to follow.
A tooth brush does a good job of cleaning most tooth surfaces, but it can't reach into spaces between teeth.
Cleaning between teeth (interdental cleaning) has been shown to remove plaque and food debris from these hard-to-reach spaces.
Dental floss isn't the only method for interdental cleaning… but it is recognized by dentists as the best way, and is an excellent method for doing this at home — or anywhere else!
Whether you use dental floss or another type of interdental cleaner is up to you. But the ADA stands by its recommendations for maintaining good oral health: Brush twice a day for two minutes with fluoride toothpaste; visit your dentist regularly for professional cleanings and checkups; and clean between teeth once a day with an interdental cleaner like floss. It doesn't matter if you do it in your own home, or on the sidelines of an NFL game… as long as you do it!
If you would like more information about flossing and oral hygiene, contact us or schedule an appointment for a consultation.
By Smile Design, Ltd.
January 05, 2018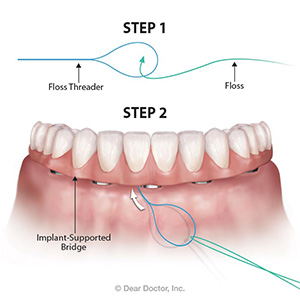 Losing teeth to tooth decay or periodontal (gum) disease is never easy. But with implant-supported bridgework, you can regain lost function and appearance with a restoration that could last for many years.
Don't think, though, that dental disease woes are a thing of the past with your new implants. Although your restoration itself can't be infected, the supporting gums and underlying bone can, often through bacterial plaque accumulating around the implants. The bone that supports the implants could deteriorate, dramatically increasing your chances of losing your restoration.
It's essential, then, that you keep the area between the bridge and gums clean of plaque through daily hygiene. This definitely includes flossing around the implants.
Flossing with an implant-supported bridge will be different than with natural teeth: instead of flossing between teeth you'll need to thread the floss between the bridge and gums. Although this is a bit more difficult, it can be done with the help of a floss threader, a device with a loop on one end and a long, thin plastic point on the other—similar to a sewing needle.
To use it, thread about 18" of floss through the loop and then pass the threader's thin end first through the space between the bridge and gums toward the tongue until the floss threader pulls through. You can then take hold of one end of the floss and then pull the threader completely out from beneath the bridge. Then, you wrap the ends around your fingers as you would normally and thoroughly floss the implant surfaces you're accessing. You then release one end of the floss, pull out the remainder, rethread it in the threader and repeat the process in the next space between implants.
You also have other hygiene tool options: prefabricated floss with stiffened ends that thread through the bridge-gum space that you can use very easily; or you can purchase an interproximal brush that resembles a pipe cleaner with thin plastic bristles to access the space and brush around the implants.
Some patients also find an oral irrigator, a handheld device that sprays a pressurized stream of water to loosen and flush away plaque, to be an effective way of keeping this important area clean. But that said, oral irrigators generally aren't as effective removing dental plaque as are floss or interproximal brushes.
Whatever flossing method you choose, the important thing is to choose one and practice it every day. By keeping bacterial plaque from building up around your implants, you'll help ensure you won't lose your restoration to disease, so it can continue to serve you for many years to come.
If you would like more information on caring for your dental work, please contact us or schedule an appointment for a consultation.