Posts for: May, 2014
By Smile Design, Ltd.
May 16, 2014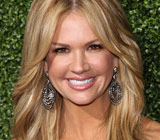 When her daughter Ashby was born in 2007, Nancy O'Dell was overjoyed; but she found the experience of pregnancy to be anxiety-provoking. O'Dell is host of the popular entertainment news show Entertainment Tonight.
After her baby was born she compiled her memories and thoughts into a book for first-time pregnant mothers. The book, "Full of Life: Mom to Mom Tips I Wish Someone Had Told Me When I Was Pregnant," covers a wide range of topics — including oral health during pregnancy.
"While my dental health has always been relatively normal, pregnancy did cause me some concern about my teeth and gums. With my dentist's advice and treatment, the few problems I had were minimized," O'Dell told Dear Doctor magazine. An example of her experience is a craving for milk that started at about the time the baby's teeth began to form. She felt that her body was telling her to consume more calcium.
As often happens with pregnant mothers, she developed sensitive gums and was diagnosed with "pregnancy gingivitis," the result of hormonal changes that increase blood flow to the gums.
"I love to smile," said O'Dell, "and smiles are so important to set people at ease, like when you walk into a room of people you don't know. When you genuinely smile you're able to dissolve that natural wall that exists between strangers."
Contact us today to schedule an appointment to discuss your questions about dental health during pregnancy. You can also learn more by reading the Dear Doctor magazine article "Nancy O'Dell."
By Smile Design, Ltd.
May 01, 2014
That "squeaky clean" feeling on your teeth might be the most noticeable result of a professional cleaning performed by a dental hygienist. Rest assured, though, there's more to it — regular professional cleanings yield long-term benefits to your oral health.
A basic procedure known as coronal cleaning removes plaque (bacteria and leftover food deposits) on the crowns, the visible portion of the teeth. If you are showing signs or are at risk for gum disease (a bacterial infection of the gum tissue) your hygienist may also initiate cleaning below the gum line with a procedure called scaling. This common technique removes plaque and tartar (hard deposits) above and below the gum line using either a traditional set of hand instruments (known as curettes) or an ultrasonic scaler, a device that uses vibrations from ultrasonic frequencies and water to remove plaque and tartar.
Root planing takes the cleaning even deeper, using curettes to remove plaque and tartar adhering to tooth roots. This is typically necessary for patients with advanced gum disease, and may need to be repeated over a number of visits as inflammation subsides.
Polishing is another common hygienic procedure performed both above and below the gum line. It's the procedure you most associate with that feeling of smoothness after a cleaning. The hygienist will typically apply to the teeth polishing paste held in a small rubber cup attached to a motorized device. As the motor rapidly rotates the rubber cup, the paste works into the teeth to remove surface stains and bacterial plaque. While it's considered a cosmetic procedure, it's more accurately defined as a prophylaxis, a dental term derived from the Greek meaning to guard or prevent beforehand.
Professional cleaning performed by a dental hygienist is only one half of an overall hygiene plan; the other half is your own daily habit of brushing and flossing. Both your daily hygiene and regular dental checkups and cleanings will go a long way toward preserving your teeth as they were meant to be — for a lifetime.
If you would like more information on teeth polishing, please contact us or schedule an appointment for a consultation. You can also learn more about this topic by reading the Dear Doctor magazine article "Teeth Polishing."