Posts for: April, 2014
By Smile Design, Ltd.
April 16, 2014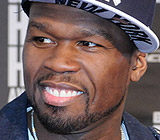 On his way to the top of the urban contemporary charts, the musician, actor and entrepreneur known as 50 Cent (born Curtis James Jackson III) earned his street credibility the hard way; his rise from youthful poverty to present-day stardom is chronicled in many of his rhymes. So when it came time for the rapper to have cosmetic work performed on his teeth, he insisted on doing it in his own way.
"I told [the dentist] to leave [my front teeth] a little bigger than the other ones, because I need to still see me when I look in the mirror," he told his co-host on the New York radio station Power 105.1. "Don't give me no whole 'noter guy — I like me!"
We understand how 50 Cent feels — in fact, we think it's a perfectly reasonable request.
Cosmetic dentistry has come a long way in recent years, as we strive to meet the increasing expectations of our patients. We realize that different people have different perceptions of what makes a smile attractive — and that in dental aesthetics, beauty really is in the eye of the beholder. That's why, before we begin cosmetic work, we want to hear what you like and don't like about your smile as it is now. In addition, we can also perform what is called a "smile analysis."
This procedure doesn't cause any discomfort — but it's a crucial part of cosmetic enhancement. In doing the analysis, we look at the various parts of an individual's smile: the spacing, size and alignment of the teeth; the health and position of the gum line; the relationship of the upper and lower jaws; and the relative shape and size of the face. All of these features combine to make a person's smile unique. By looking at them closely, we can help determine the best way for you to improve your smile.
But how can you tell if the cosmetic changes you're contemplating will end up being just right for you? Fortunately, with today's technology, it's easier than ever. Computer imaging offers a chance to visualize the final outcome before we start working on your teeth; it's even possible to offer previews of different treatment options. If you want to go a bit further, we may be able to show you a full-scale model of your new smile.
In some situations, we can even perform a provisional restoration — that is, a trial version of the new smile, made with less permanent materials. If the "temporary" smile looks, feels, and functions just right, then the permanent one will too. If not, it's still possible to make changes that will make it work even better.
Whether you're thinking about having teeth whitening, cosmetic bonding, porcelain veneers, or dental implants to improve your smile, you probably have a picture in your mind of how the end result should look. Will your teeth be perfectly even and "Hollywood white" — or more "natural," with slight variations in size, spacing and color allowed? Either way, we can help you get the smile you've always wanted.
If you would like more information about smile makeovers and options in cosmetic dentistry, please contact us or schedule an appointment for a consultation. You can learn more by reading the Dear Doctor magazine article "Cosmetic Dentistry."
By Smile Design, Ltd.
April 01, 2014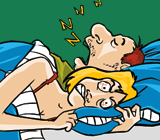 You may get a laugh out of jokes about snoring, but in fact snoring and "Sleep Apnea" ("a" – without; "pnea" – breath) is no laughing matter. Nights of chronically disturbed sleep results in accidents, lost productivity and even depression, as well as problems at work and with relationships. Chronic snoring as a result of sleep apnea, results in sleep deprivation and health problems such as high blood pressure, congestive heart failure, heart attacks, brain damage and strokes.
What causes snoring?
Snoring results when soft tissue structures block the airway (windpipe) in the back of the throat. These structures include tonsils, soft palate, the uvula (the little punch-bag shaped structure at the back of the throat), and fat deposits. As you relax in sleep these tissues collapse onto themselves and the tongue drops back, causing a blockage in the air passage to the lungs. These obstacles to airflow create the familiar sound that we know as snoring.
What is Sleep Apnea?
When the obstruction is severe, it can block airflow completely. Obstructive Sleep Apnea (OSA) occurs when your upper airway is so seriously obstructed that there is significant loss of airflow, or even a complete arrest of breathing for 10 seconds or more. Reduced airflow into the lungs causes low levels of oxygen in the blood reaching the brain. Your brain, saving itself from suffocation, wakes you briefly out of deep sleep, followed by a loud gasp as the flow of air starts again. This can happen more than 50 times an hour. Low oxygen levels and fragmented sleep cause most of the dangers of sleep apnea.
What can be done to combat sleep apnea?
Medical and dental treatment includes:
Staying physically healthy: Being overweight contributes to OSA, so start by losing weight and exercising.
Oral Appliance Therapy: Specially designed (retainer-like) appliances are designed to maintain an open, unobstructed, upper airway during sleep.
Continuous Positive Airway Pressure (CPAP): CPAP bedside machines send pressurized air through a tube connected to a mask (covering the nose and sometimes mouth), keeping your airway open.
How can we help you combat your snoring and sleep apnea?
The first step is assessment and diagnosis. Dentists, specially trained in sleep medicine, are in a unique position to help diagnose and help treat snoring and sleep apnea as part of a medical team. Contact us today to schedule an appointment if you think you have a problem with snoring and OSA — or if your spouse thinks you do. You can learn more by reading the Dear Doctor magazine article "Snoring and Sleep Apnea."